During this special D2D event, D2D invited the art, music, creative and tech community for a new and exciting journey of multi-disciplinary encounters, exchanges and collaborations!
The event immersed the audience into a Live collaborative performance between musician Le Sherifs(Egypt) and new media artist Maotik (France) imagined and brought by D2D.
Details
Creative Experimentation:

D2D Art

Visuals:

Maotik (France)

Sound:

Adam Le Sherifs (Egypt)

Event:

Special D2D event, at Darb 1718, 31 March 2019

Category:

Live art performance, Audiovisual art experience, Experimental art, Immersive art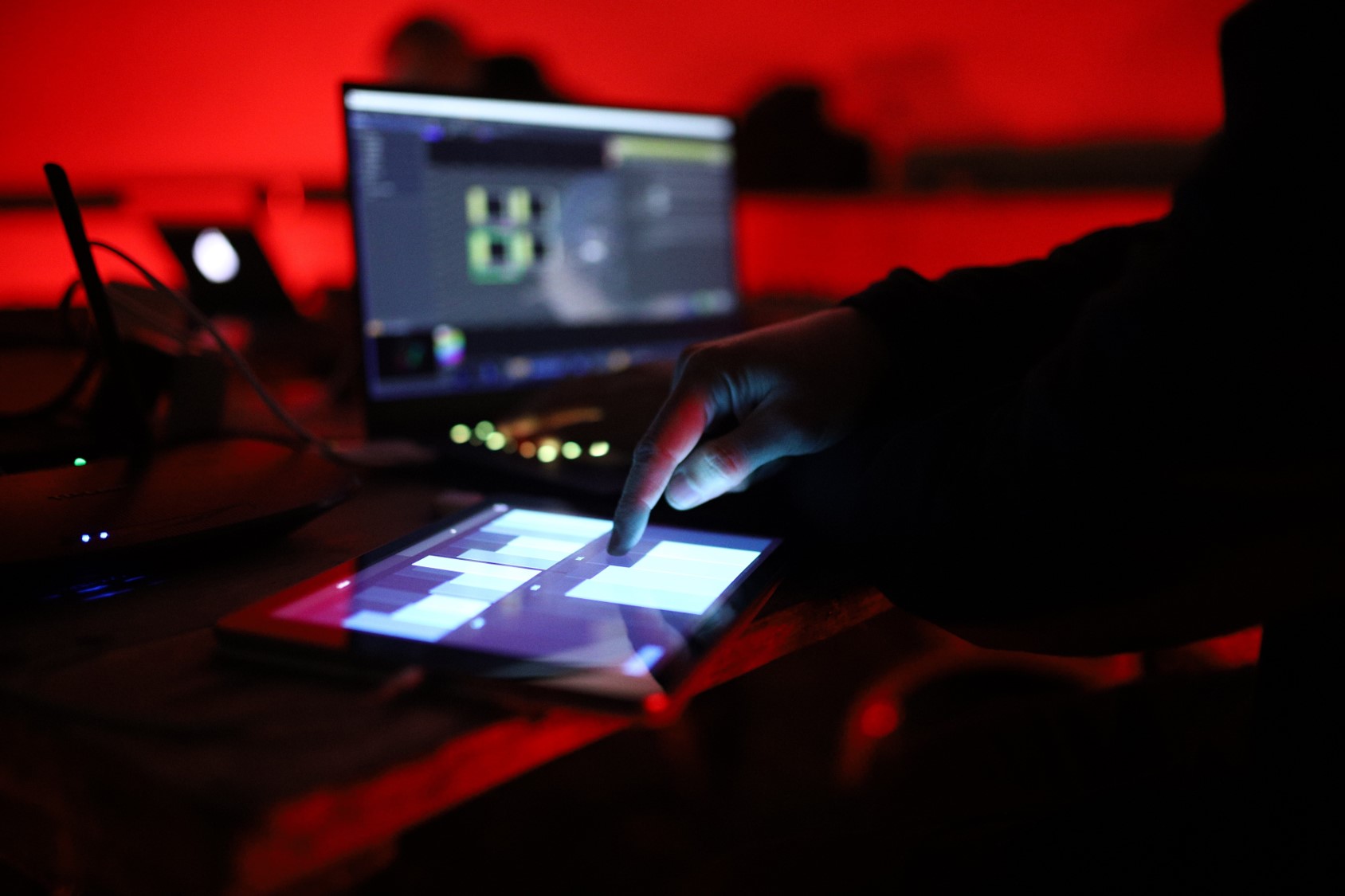 New Media Artist: Maotik (France)
French digital artist, Mathieu Le Sourd (Maotik) focuses his work on the creation of immersive multimedia environments and generative visuals. His work has recently been presented in various festivals around the world, such as Mutek Festival, Live Cinema in Rio, Signal Festival in Prague, the British Film Institute in London and ARS Electronica in Linz.
Le Sourd produced several large-scale projects including a multimedia experience in the new terminal at Los Angeles International Airport as well as the visuals for Nine Inch Nails' world tour. In 2013, he produced the critically-acclaimed immersive multimedia performance DROMOS, which was presented at the SATosphere in Montreal as part of Mutek festival.
Always in search of new challenges, Le Sourd designs his own visual tools; generating animations from algorithms and creating 3D worlds to transform perceptions of space. He collaborates with musicians, sound artists and scientists in order to continue his research into the relationship between art, science and technology.
Musician: Adam Le Sherifs (Egypt / U.S.A.)
Le Sherifs is an experimental musical outfit from Egypt. Their sound infuses Trip hop, Electronica with Abstract sounds. In 2010 they released their first single (Errors) followed by their debut album (Theories Of Poverty).
The album which was recorded entirely in Egypt is a trek into minor keys, dark themes, and no happy ending moods. Le Sherifs state that most of the tracks were written and produced in their cairo studio using relatively cheap equipment and is intended to reflect the dark side of poverty in all its forms.
Le Sherifs second album (Match Of the Man) is due to be released in 2020.
Featured vocalists on the album include Soho Rezanejad,
Sophie Barker (Zero 7), Jo Kate Benson and Hulya Kilicaslan.