Overview
This unique project, imagined by D2D creative director and ABB Egypt CEO, resulted in an innovative art-tech experimental collaboration between selected D2D artists and ABB robotic engineers and eventually in several live human-machine interactive audiovisual performances.
The robot, an ABB "co-bot" named Yumi, is the "first true collaborative robot in the world". 
The idea and challenge was to come up with an experiential collaborative outcome that could eventually allow for humans (the artists) and machine (the robot) to interact via the performance in real time.
Details
Creative Collaborative Production:

D2D and ABB, led by D2D team

Lead Digital Media Artist and Technologist:

Islam Shabana (Egypt)

Sound Artist:

Onsy (Egypt)

Visual Artist and Technologist:

Ziad Osama (Egypt)

Performances:

ABB new Hqs, Cairo - December 2018; ABB Ability event, Dusit Thani Lakeview Cairo - April 2019; French Institute, Cairo - April 2019

Category:

Experimentation, R&D, Art Collaboration, Robotics, Cobotics, Live audiovisual art performance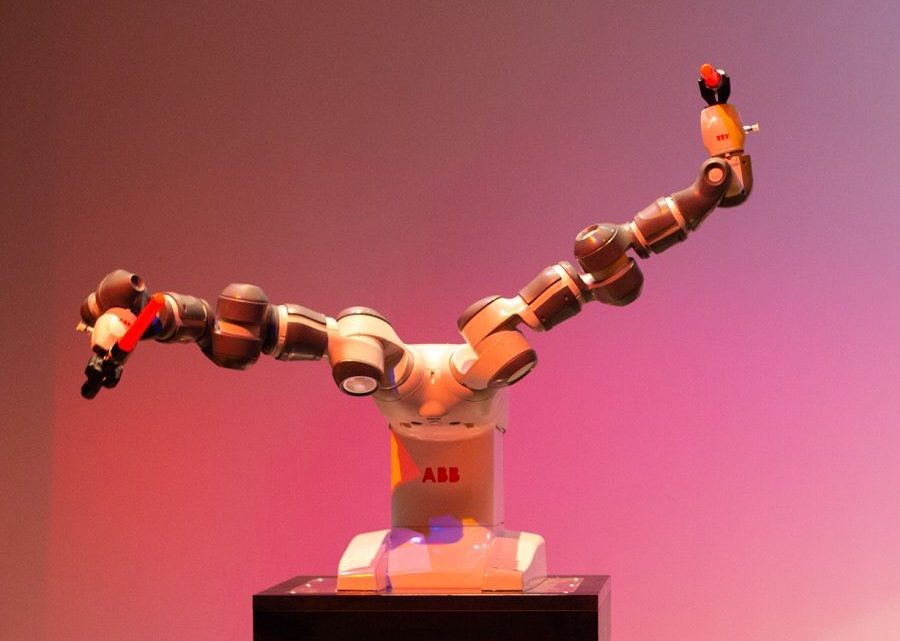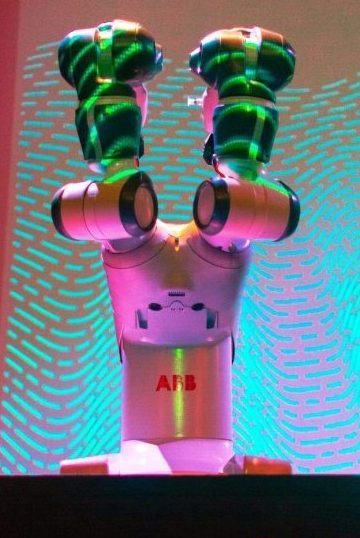 Eventually, as the robot performed (
choreography developed by Islam Shabana), the movements triggered real time numbers that were sent to the sound artist's PC who manipulated them to trigger new sound effects in real time.
Meanwhile,  capturing the movements of the robot (holding light torches), a camera was sending the visual data to the visual artist's PC who used the live input from the camera to create new visual compositions in real time, projected on a transparent screen. The transparent screen was placed between the robot and the audience.